During this 2020 corona pandemic, many restaurants have switched to offer take away or to offer the possibility for delivery. This has been greatly appreciated by a lot of inhabitants and it is indeed a good opportunity to support the businesses in these difficult times. We have compiled a little list of 12 interesting restaurants in the neighbourhood of City Hotel that you may want to check out that also offer take away; in no particular order.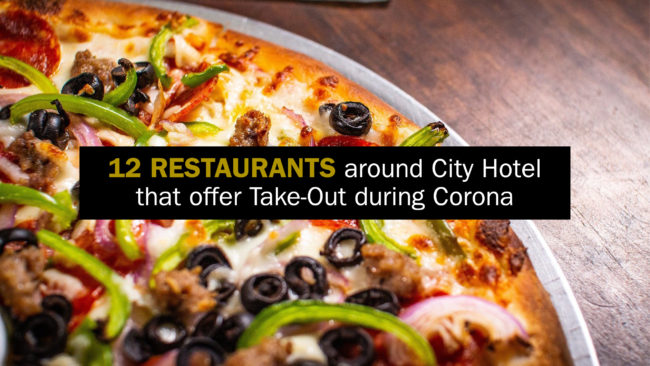 1) Bangkok Thai Brasserie (Thai)
Address: 8, rue du Fort Bourbon, L-1249 Luxembourg
Distance: 400 m
Web: https://bangkok.lu/
Bangkok Thai Brasserie is passionate about Thailand's culinary art of taste and spices. Exclusively Thai women chefs prepare your order. You can also find vegetarian and vegan dishes on the menu, subtle and carefully balanced mix of Thai spices and blend of fresh Thai herbs, very briefly sautéed in a wok, steamed or grilled.
2) Oak Bistro (Vegetarian/Vegan)
Address: 43, rue Goethe, L-1637 Luxembourg
Distance: 900 m
Web: http://oakbistro.lu/
Oak Bistro offers different dishes every day. The main dishes are organic, palm-oil free, plant-based and gluten-free. Dishes sound like this: Iberian paella with roasted mushrooms and caramelized lemony fennel sided with a crunchy rainbow salad. We also spotted the Choco caramel peanut raw cake aka "Snickers Cake". They like to experiment a lot.
3) Phenicia (Syrian/Lebanese)
Address: 5, rue André Duscher, L-1424 Luxembourg
Distance: 250 m
Web: http://phenicia.lu/
Phenicia is the place for Lebanese and Syrian cuisine. They offer Mediterranean flavours in their traditional dishes like Humus, Falafel, Chich-Taouk, Tabbouleh, Samak.
4) Flower's Kitchen (Vegetarian/Vegan)
Address: 7, rue Glesener, L-1631 Luxembourg
Distance: 180 m
Web: https://flowerskitchen.lu/
Flower's Kitchen is providing vegan food of superior nutritional integrity and delicious taste. The daily menu is 100% homemade from fresh, seasonal, mostly regional and organic ingredients. They serve hot bowls, salads, soups, quiches, pastry, organic teas and coffee.
5) Namasté (Indian)
Address: 19, rue de Strasbourg, L-2561 Luxembourg
Distance: 98 m
Web: https://www.namaste-restaurant.com/
Namasté offers Indian and Nepalese cuisine: Samosas, Pakoras, Curries, Sea Food or meat roasted in the Tandoor grill, a cylindrical clay oven. Fans of spicy food will find delicious hot masalas. They also offer a lunch menu with dessert from Monday to Friday.
6) Partigiano (Italian)
Address: 14, rue de Strasbourg, L-2560 Luxembourg
Distance: 86 m
Web: http://partigiano.lu/
Partigiano is a new Italian restaurant that offers fresh food, beautiful salads or pasta, but is best known for its Neapolitan style pizzas. Apparently when ordering a pizza, you get a little surprise, a special message.
7) Saveurs Lao Viet (Vietnamese/Laotian)
Address: 24, rue Joseph Junck
Distance: 250 m
Web: https://www.facebook.com/TraiteurSaveursLaoViet/
There are not many Vietnamese restaurants in Luxembourg. Lao Viet has opened in January 2018 and invites you to discover the flavours of South-East Asia from Vietnam and Laos.
8) Ninja House (Japanese)
Address: 43, rue de Strasbourg
Distance: 300 m
Web: http://ninjahouse.lu/
This restaurant is really very close to the hotel and offers Japanese specialties like sushi, but also soups, salads, noodles, tempura or Teppanyaki.
9) Sushi Lovers (Japanese)
Address: 35 avenue de la liberté, L-1931 Luxembourg
Distance: 350 km
Web: http://sushi-lovers.lu/
Another interesting address is Sushi Lovers which was the first one in Luxembourg to offer an iPad ordering system for sushis instead of a sushi train.
10) Bella Napoli (Italian)
Address: 4, rue de Strasbourg, L-2560 Luxembourg
Distance: 30 m
Web: http://bellanapoli.lu/
Bella Napoli is one of the oldest pizzerias in Luxembourg-City. There is no restaurant closer to City Hotel as you can find it just across the street. The Balestri family is in charge and their pasta, desserts and ice creams are hand-made.
11) La Briscola (Italian)
Address: 14, rue d'Epernay, L-1490 Luxembourg
Distance: 350 m
Web: https://www.labriscolalux.com/
La Briscola offers regional Italian cuisine from classic recipes to new versions revisited in a modern fashion. When ordering food for Take Away, you get special prices on the more than 100 different Italian wine labels.
12) Taj Mahal (Indian)
Address: 2, rue de Strasbourg, L-2560 Luxembourg
Distance: 10 m
Web: http://www.tajmahal.lu/
Taj Mahal is one of the oldest indian restaurants in Luxembourg since 1985 and just opposite of the hotel next to "Bella Napoli". They offer a lot of vegetarian options too.
+1: Victorine
Address: Ground-floor of City Hotel (1, rue de Strasbourg)
Distance: 0 m
Web: https://www.victorine.lu/
Victorine, our main food-partner is located right at City Hotel on the ground-floor and reopens its doors on Monday 11th May 2020 for Take-Out. The delicious jars, fresh spring rolls, sandwiches, salads, wraps and sweets take into account different diets. 70% of the preparations are vegetarian and many of them are vegan, lactose free, gluten free, without refined sugar and their packaging is recyclable, the plastics are from 100% vegetable PLA.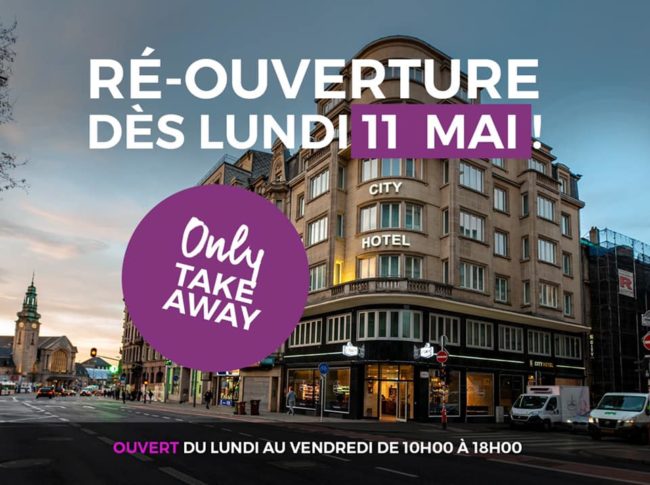 ---
Share this with your friends and follow us on Facebook, Instagram or Linkedin and subscribe to our newsletter.